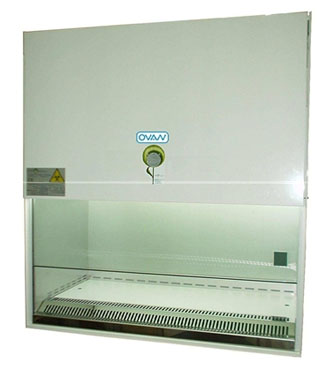 BIOHAZARD SAFETY CABINET Microbiological Safety Cabinet (M.S.C.)
The laminar flow, Class 100FS 209, IS BLOWING THROUGH Absolute filter in the work volume insuring manipulation safety.
The air flow is completely sucked through lateral grids around work surface and bulk heads with negative pressure
In foreground air sucking flow rate is 30% of the air which is blown. This creates a barrier against any contamination from pathogenic manipulation to outside in keeping safe the manipulator
An equivalent flow rate of 30% is extracted through a second Hepa filter (exhaust filter) to protect environment.
The remaining air is recycling with first Hepa filter (main one)
Technical Specifications
Model

Optiovan 9

Optiovan 12

Optiovan 16

Optiovan 18

Reference

50000-00101

50000-00102

50000-00103

50000-00104

Overall Dimesions (mm)

971x1400x786

1276x1400x786

1581x1400x786

1886x1400x786

Useful Dimesions (mm)

921x650x616

1226x650x616

1531x650x616

1836x650x616

Power (w)

900

Electr. Connection (V-Hz)

220V 50Hz , single phase

Serial Equipment

Electrical power socket

1

DOP control Outlet

√

HEPA Filter

2

Light

White Fluorescent tubes installed outside the working enclosure

ECM Fan

√
Accessories
| | |
| --- | --- |
| Options | Reference |
| UV Lamp for Optiovan 9 and 12 | 50000-01100 |
| UV Lamp for Optiovan 16 and 18 | 50000-01101 |
| Stand painted in Epoxi for Optiovan 9 and 12 | 50000-01102 |
| Stand painted in Epoxi for Optiovan 16 and 18 | 50000-01103 |
| Gas inlet for Optiovan | 50000-01104 |