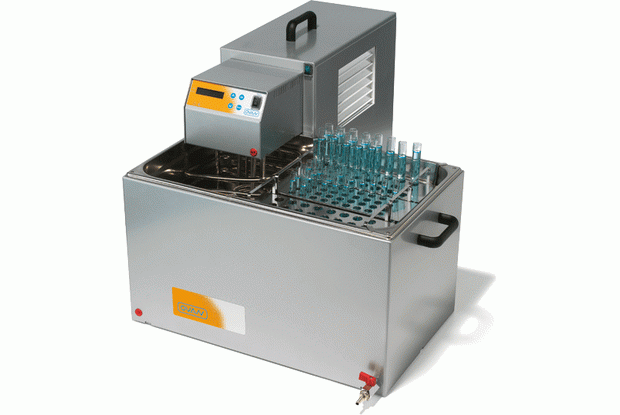 Bath with Digital Refrigerated Immersion Thermostat
Refrigerated precision baths.

Inner tank made of stainless steel AISI 304 and metallic housing protected with Epoxi paint of great resistance to aggressive surroundings.
Temperature controlled by microprocessor, by means of an integrated Pt100 sensor, with "ARA V2" algorithm of temperature regulation with "fuzzy logic" control.
Digital Display LCD backlighted showing the selected and actual temperature.
Membrane push-button control.
CFC free compressor of 1/5 HP, noiseless and without vibration.
Pump for homogenization (6L/min) (max. pressure 200mbar).
Safety thermostat cut out indicator lamp. The unit will cut out if there is insufficient liquid or if the temperature exceeds the maximum temperature.
Indication on the display of high temperature on the tank, that provides protection against burn. From 45ºC.
Automatic restart after unexpected shut down keeping the same parameters as before the incident. An incident sign appears on the display.
Memory of the last settings.
Mains switch ON/OFF protected against splashes.
Water drainage faucet and handles for a easy transport.
Technical Specifications
Model

BC012E

BC020E

BC027E

BC045E

Reference

10000-01147

10000-01148

10000-01149

10000-01150

Thermostatization
Max. Vol. (L)

12

20

27

45

Heating power (W)

1600

Refrigerating power (W)

300

600

Tª range (ºC)

0 – 100

Resolution (ºC)

0,1

General Data
Tank material

Stainless steel AISI 304

Useful Dimension.(cm)
15x30x15

32x30x15

32x30x20

44x50x15

Ext. Dimensions (cm)
36x79x46

53x79x46

53x79x51

65x99x46

Weight (kg)

21,0

23,3

29,0

32,8

Protection IP

IP52

Packaging cm

Tribox 64x34x55 + 51x45x42

Tribox 64x34x55 + 66x45x43

Tribox 64x34x55 + 66x45x43

Tribox 64x34x55 + 78x66x43
Accessories
Accessories
Reference
Constant liquid level *

For water baths

* order together with the bath (it has to be mounted in the factory)

20000-00111
Support for tube racks.
For baths of 12L
20000-00161
For baths of 20L and  27L
20000-00162
For baths of  45L
20000-00163
Tube racks *
36 tubes 

Æ 

13mm

20000-00164
24 tubes Æ 16mm
20000-00165
24 tubes Æ 20mm
20000-00166
*Bath capacity:
12L – 1 racks

20L – 3 racks

27L – 3 racks

45L – 5 racks