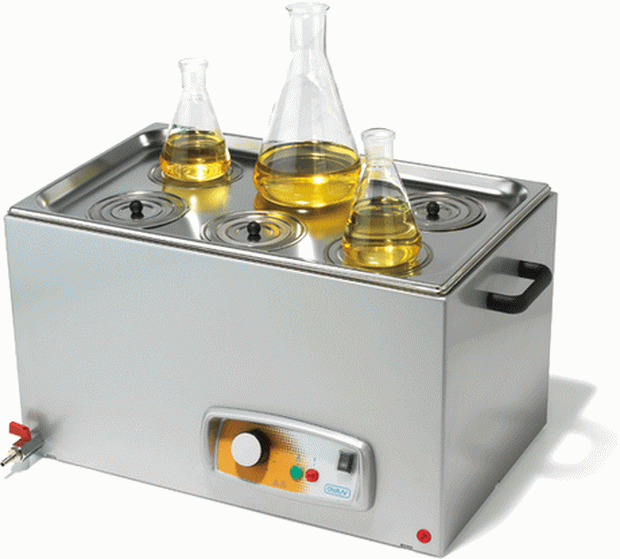 Thermostatized baths.

Inner tank made of stainless steel AISI 304 and metallic housing protected with Epoxi  paint of great resistance to aggressive surroundings
Temperature controlled by means of an hydraulic thermostat, for water and oil.
Heating resistance embedded made of special alloy of stainless steel, heat and corrosion resistant.
Temperature thermostat synchronized with the "on" indicator lamp.
Safety cut out thermostat with indicator lamp. The unit will cut out if there is insufficient liquid or if the temperature exceeds the maximum admissible temperature.
Water drainage faucet and handles for a easy transport.
Includes stainless steel cover-resistance.
Technical Specifications
Model

B105E

B112E

B120E

B145E

B205E

B212E

B220E

B245E

Reference

10000-01101

10000-01102

10000-01103

10000-01104

10000-01105

10000-01106

10000-01107

10000-01108

Thermostatization
Max. Vol. (L)

5

12

20

45

5

12

20

45

Tª range (ºC)

ambTª+5 – 120

amb Tª +5 – 210

Precision (ºC)

+/-1

Power (W)

600

800

1600

3200

600

800

1600

3200

General Data
Tank material

Stainless steel  AISI 304

Stainless steel  AISI 304

Useful Dim. (cm)

30x15x13

33x30x13

50x30x13

62x50x13

30x15x13

33x30x13

50x30x13

62x50x13

Ext. Dim. (cm)

33x18x30

36x33x30

53x33x30

65x53x30

33x18x30

36x33x30

53x33x30

65x53x30

Weight (kg)

6,2

8,5

11,0

18,0

6,2

8,5

11,0

18,0

Protection IP

IP52

IP52

Packaging cm

45x30x43

51x45x42

66x45x43

Tribox 78x66x43

45x30x43

51x45x42

66x45x43

Tribox 78x66x43
Accessories
Accessories
Reference
Constant liquid level *

For water baths
* order together with the bath (it has to be mounted in the factory)

20000-00111
Thermometer and support

máx Tª. 100ºC

20000-00120
Support forThermometer
20000-00183
Cover with disc adapters
with 2 disc adapters for baths of 5L
20000-00100
with 4 disc adapters for baths of 12L
20000-00101
with 6 disc adapters for baths of 20L or 2 units for baths of 45L
20000-00102
Set of disc adapters
20000-00189
Cover of stainless steel
For baths of 5L
20000-00105
For baths of 12L
20000-00106
For baths of 20L
20000-00107
For baths of 45L
20000-00108
Support for tube racks.
For baths of 5L
20000-00161
For baths of 12L
20000-00162
For baths of 20L or 2 for baths of 45L
20000-00163
Tube racks *
36 tubes Æ13mm
20000-00164
24 tubes Æ 16mm
20000-00165
24 tubes Æ 20mm
20000-00166
* Bath capacity:
5L – 1 rack

12L – 3 racks

20L – 5 racks

45L – 2×5 racks