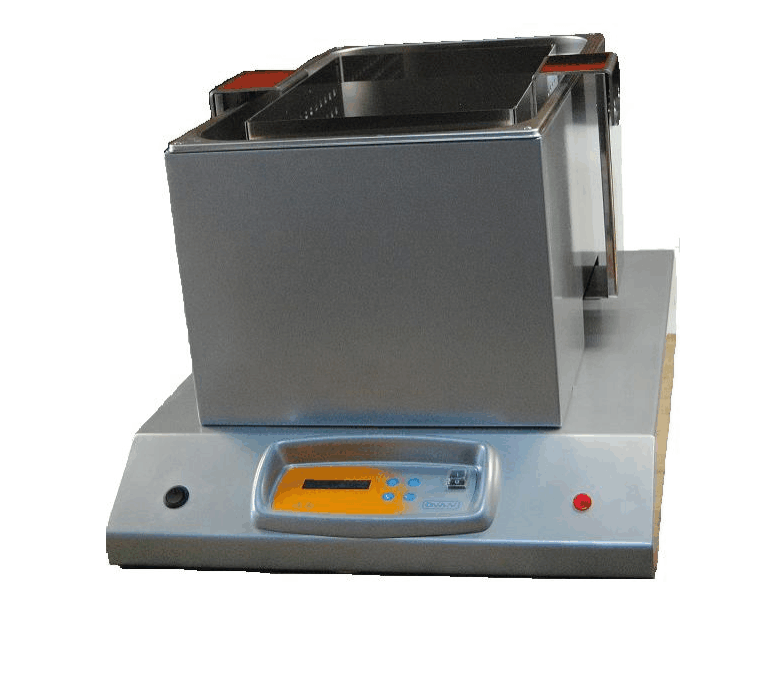 Thermostatized Digital Bath with Orbital Shaking
Bath Orbital shaker, suitable for medium size containers, Erlenmeyers flash, vessels, etc.
Speed adjustable, controlled by microprocessor.
Constant speed independently of the load.
Smooth and progressive start and stop, independently of the selected speed.
Mobile inner tank made of stainless steel AISI 304, and metallic housing with Epoxi paint of great resistance to aggressive surroundings.
Double safety thermostat
Digital Display LCD backlighted indicating the selected and actual speed,temperature and timer (with audible alarm).
Membrane push-button control.
Automatic restart after unexpected shut down keeping the same parameters as before the incident. An incident sign appears on the display.
Quiet operation. Suitable for continuous running.
Technical Specifications
Model

OBS10-27

Reference

30000-00161

Tech.Data
Max. Load (Kg)

10

Total Power (W)

1650

Type of movement

Orbital

Amplitude (mm)

10

Speed Range (rpm)

50-400

Resolution (rpm)

5

Max Volume

27l

Tª range (ºC)

ambTª+5 – 100*

Display Resolution (ºC)

0,1

Timer (min)

0-120

General Data
Tank material

Stainless steel AISI 304

Inner Dimensions  (cm)

35x26x17

Protection IP

IP54
Accessories
| | |
| --- | --- |
| Accessories | Reference |
| Cover of stainless steel | |
| For bath of 27L | 20000-00110 |
| Universal support with 5 rollers | |
| * order with the instrument, mounted in factory | |
| For bath of 27L | 20000-00142 |
| Support platform for erlenmeyer flasks | |
| For bath of 27L | 20000-00132 |
| Erlenmeyers flash spring clip 50 ml. ( max 30u.) | 20000-00246 |
| Erlenmeyers flash spring clip 100 ml. ( max 20ud.) | 20000-00247 |
| Erlenmeyers flash spring clip 250 ml. ( max 12ud.) | 20000-00248 |
| Erlenmeyers flash spring clip 500 ml. ( max 9ud.) | 20000-00249 |
| Erlenmeyers flash spring clip 1000 ml. ( max 6u/) | 20000-00299 |
| Fastening springs (2) for vessels, flasks, etc  | 20000-00043 |